<![if !vml]>

<![endif]>
Action is Required
ALL eLink users will begin using this new method of login starting March 1, 2018 at 9 a.m.
This will NOT impact iLink – if you are at a Texas Health Location you should access via http://ilink.txhealth.org.  By utilizing this link/address you will be able to continue logging on using ONLY your username and password when on site.
http://elink.texashealth.org should be used only when logging in remotely and will require you to register for the credentials as shown below
You WILL NOT be able to login using the Symantec VPN solution prior to that date.
Affected Users:

All users of eLink for remote access to applications.

Change Effective Date:

Thursday, March 1, 2018 at 9 a.m.

Description:

To enhance security, Texas Health is changing eLink access to require Multi-Factor Authentication (MFA) using the Symantec VIP solution. To sign on you will have to use your login, password, and a randomized security key, which is obtained only from the Symantec VIP solution.

Action Required:

This move will happen to all eLink users on March 1, 2018 at 9:00am. Prior to this date you will need to do the following:

1) Register at least one device to install Symantec VIP, which generates a "VIP access key" (the random security key).

To register go to http://vip.txhealth.org:8233/vipssp/ while on the Texas Health Network, or if you are not on the Texas Health network you may get to it at https://vip.texashealth.org.  Login with your Network Username and Password and click on the below:
<![if !vml]>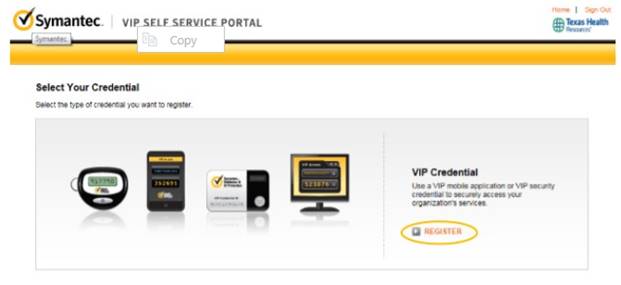 <![endif]>
Depending on the device you are using click on the links below for full instructions:
To install on a workstation can be found HERE.
To install on a mobile phone can be found HERE.
This key will change every 30 seconds.
You only need to set up one device, but you can set up multiple ones as a backup without affecting the others.
Should you need to replace one of these devices in the future, you will need to install Symantec VIP on the new device.
Beginning on March 1, 2018 when you log in, your username and password will be your network credentials, and your
second password will be the Security Code that your VIP software shows you. Instructions for logging on after the
setup are included in the attached document.
<![if !vml]>
<![endif]>
If you have questions or need assistance with your access, please reach out to the Service Desk at 682-236-4357.